About Me...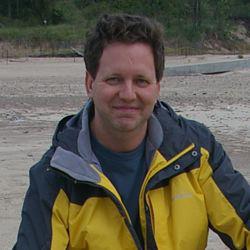 My name is Kenn Wislander, and this is my web domain. I am a freelance graphic artist, who also dabbles in photography, and web development. On this web site you can find examples of my work as well as links to projects that I am currently working on, or worked on in the past; along with various designs I have created for other people and companies.
Now for a little bit about me: I grew up in Kewanee Illinois and lived there until I graduated high school back in 1982, at that time I joined the Navy and traveled the world. Once I got out of the military I attended the University of Illinois where I received my degrees concentrating in the areas of Advertising and Psychology. I currently reside in south central Illinois in the Champaign-Urbana area, and work at the University of Illinois where I manage a team of IT professionals who create and maintain highly organized network infrastructures.
Below you can link to examples of graphics, illustrations, and web stores that I have either created in full, or have been an active part of their design. I have broken each of the topics down into the separate areas, which you also see links to on the left hand menu, so you are not overwhelmed with a random flood of images. Each of the areas are a work in progress and I hope that they stay like that for some time to come.
To see my work in action, make sure you check out the Graphic Design, Freelance Work and the Work in Action, and my Home Projects sections on this site; and feel free to drop by my Social Networking area and connect with me around the net.
One of the best places to see a large selection of my illustrations is over in my iStockphoto portfolio.
In 2005 I opened an account up over on the site, and I have been adding designs to it on a regular basis ever since. My illustrations over there vary from people, to animals, to locations, to various different concepts and designs.
I have over a 1000 designs over on the site, and have pretty steady sales over there.

One of the first locations that I ever placed any of my designs on-line is over in my Zazzle store front. I have several different store fronts that I also use, but my Zazzle store is the most consistent when it comes to traffic and sales.
Their product and production quality is extremely good, and they have a very quick turn around on their orders. Over the years I have purchased quite a few items and been happy with all of them.
My Red Bubble store front is one of my new locations.
They are a little different than many web stores; and no I do not just mean because their headquartered Australia. They sell limited types of merchandise, but they also provide space for people to publish their writings.
The whole site works like an artist community, with groups of people working together to help categorize and market each other's products.
Printfection may not be the most well known web marketplace out there, but it does offer one of the easiest layouts to organize, and is very user friendly to both the people who maintain a shop on the site, and people looking to shop there.
They have really good pricing, and eveything they sell is very high quality. Like many of the custom stores out there they offer digital press transfer to their products.
Spreadshirt is a little different from many of the other webstores out there. They not only allow for you to have your own store front, but they also allow for you to sell just your designs separately on the site so that other people can use your work on items they create; and you can offer your merchandise in the general Spreadshirt marketplace giving you three different ways to earn on their site.
Another thing that sets them apart from many custom merchandise sites is that you can upload your images in both high resolution bitmap format, and in vector format. They are a little more selective in what can be added to their collection in vector formats, but they do offer certain items that no one else offers.
The Angry Bunny webcomic is my own personal comic on the web. I started the comic in February of 2007 and have been maintainin the comic and the site ever since. If you click on the icon below it will take you directly to the comic's actual website.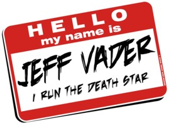 My Jeff Vader design above is know around the web, and if you click on the link above you can read more about why I mention it here.